Haunted Schoolhouse & Laboratory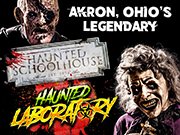 Haunted Schoolhouse
The Haunted Schoolhouse is a three-story brick building in the former Thomastown Elementary School at 1280 Triplett Boulevard in Akron, OH. The School Building was purchased from the Akron Board of Education in September of 1974 and has been scaring the yell out of its many visitors ever since. We have artists and set designers who work year round to create exciting new sets every year, as well as add a fresh polish to existing scenes. Touring the schoolhouse has been likend to visiting a detailed hollywood movie set. Your trip through our attraction will include a visit to a home of witches, giants, dragons and gargoyles. You'll also travel through cemeteries, Dracula's castle and Dr. Frankenstein's Laboratory, as well as the evil king's dungeon of terror.

When visiting both of our Haunted attractions you will experience 7 FLOORS OF COMBINED TERROR. During the Halloween season we employ 50 actors at the schoolhouse in addition to adult supervisors, staff members and Akron City Police who observe and patrol our show. We offer 10 acres of free parking. Tickets are purchased in our large indoor waiting area and a concession counter is provided with a seating area for parents waiting for their children to tour the attraction.

Haunted Laboratory
The doors of the Haunted Laboratory at 1300 Triplett Bouevard in Akron, OH creaked open in 1981, but the building's history began on June 26, 1932 when it was operated by The University of Akron as the Guggenheim Air Institute. Since the university had no aeronautical experts, the Institute operated under the supervision of German Scientist, Dr. Karl Von Karman. Many of the buildings unique features at the Institutes are showcased in our show. Your tour at the Haunted Laboratory encompasses four stories of spine tingling scenes. You will walk onto a catwalk wile lasers shoot up through the four story vertical wind tunnel. You will be able to view one of a kind, state-of-the-art Tesla Coils, spinning black holes and an array of intricate sets.

When touring both of our Halloween productions we offer 7 FLOORS OF COMBINED TERROR. We have 10 acres of free parking next door at our Haunted Schoolhouse. We employ 50 actors as well as adult supervisors, staff members and Akron City Police who observe and patrol our show.
AKRON HAUNTED SCHOOLHOUSE & LABORATORY 2009
Latest Reviews
There are no reviews for this listing yet!