Asylum Run Haunted Attraction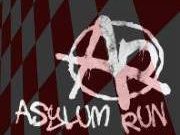 Asylum Run is one of Harrisburg's Newest Haunted attractions, situated a few minutes outside of Harrisburg PA, along the Asylum Run Creek. We are working hard to bring you a great experience for a forth year in a row. Seeking thrills and chills this Halloween season? Look no further than Asylum Run, the newest terrifying haunted attraction in Harrisburg, PA. We welcome you back for our 4th year and we hope to make this one our best yet.

We present Unfairy Tales- Where legends become Nightmares!!! Three new heart pounding attractions this year! Step right up!!! Come one, come all! We are introducing a vintage carnival style haunt this year. Asylum Run proudly introduces Funhouse of Horrors, The Asylum Run Freak Show, and Land Of The Sideshow Rejects. This year is a cross between a carnival and a haunt. You will find different different side attractions all season long. Get a palm reading, have a joker guess your weight. Scary mad fun, with a twist.

Hatter's House:
The classic Mad Hatter with the Asylum Run twist! Is he around that corner, I hope not for your sake! This is the mad hatter from hell. Something evil is in the air tonight and seeking your soul. You better stay close to your group as he could be anywhere inside his dark and musty lair. This will be a non-traditional house with a horror theme. Dare to enter if you will!!! You may be the next victim of misery.

Alice's Nightmare:
Welcome to the Alice's Nightmare!!! Come out and see Alice's nightmare come to life, some of the strangest and odd creatures you have seen. Alice was recently prescribed medication to help her with anxiety now, when she goes to sleep her evil nightmares come to life at Asylum Run. The show has plenty to offer as you will see multiple tales and bizarre fantasies, you will also get the scare of a life! Alice's nightmare promises to make you have your own nightmares!

Horrorland:
Horrorland, what is it you ask? It is life, it is death. It is good, it is evil. It is fear and it is courage. All I can tell you is you're about to encounter one hell of a ride! This horrific take on wonderland will make you wish this was just a nightmare! You will experience horrific creatures from legends of old with a modern twist. There is something out there I can't tell you what it is!!! Once you see it you will be bewildered with mystery, panicked with terror, and impaired from the madness. There are clues out there what are they trying to show us? What are they trying to hide from us? They are protecting something they seem to have a secret but, are not willing to share. Can you figure it out without going delirious?


Latest Reviews
There are no reviews for this listing yet!