Buffalo Zombie Mud Run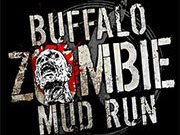 Buffalo Zombie Mud Run
11199 Main Street
Clarence, NY
Review Us
The grounds have been infected by a nearby industrial accident. Zombies are swarming in search of BRAINS. You must gather your friends, family, co-workers or anyone else you feel is brave enough to challenge the 5K Zombie Infested Obstacle Course: PANDEMIC. (You also may want to bring someone expendable to use as bait to slow down and confuse our Zombies – maybe that guy from Finance that no one likes.)

The Buffalo Zombie Mud Run (BZMR) is your chance to prepare for the apocalypse in this thrilling endurance race for your life that pits you against PANDEMIC (obstacle course) and our ZOMBIE HORDE. Face your FEARS and try to survive the PANDEMIC… where you're either quick, or you're dead!

The next Buffalo Zombie Mud Run (BZMR) is at the Great Pumpkin Farm in Clarence, NY. Your mission? Get through the 5K course, all 13 obstacles, and avoid losing your 3 life lines to the Chaser and Roaming Zombies. Cross the finish line with at least one life line intact to help save the human race (and earn yourself a place at the Survivors Party!)

We recommend that you arrive 2 hours prior to your start time.


Buffalo Zombie Mud Run | Official Trailer
Latest Reviews
There are no reviews for this listing yet!