Butcher Ridge Haunted Trail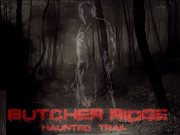 Forest ridge was located at the back of lake Blalock in Mayo SC. It lies in the heart of the deep woods. Many years ago it was a well known family camp ground, people came from all around to camp here. Years later there was a mental hospital built beside the camp ground. Shortly after it was built, strange things started happening. It was said that a group of five college students was camping there the last weekend before it closed. That night the students decided to take a stroll to the lake, little did they know that only two of them would make it out alive. The story they told was most insane. They said there was this mad butcher and his cannibalistic serial killer family. One was said to have a messed up face, as if he had been burned. Another looked like a clown, and others wore masks. When the police came back from investigating the crime scene, they said it looked like a horror story. Body parts thrown every where, blood covered the woods and the lake. They never found who did this to these people, so they are still lurking in these woods looking for new bodies to eat. That's how the name butcher ridge came to be. After that night both the mental hospital and the camp ground closed down. However, people still make a wrong turn into butcher ridge, never to be found again. If you dare to come to butcher ridge, just remember people are watching and waiting for you to make YOUR LAST WRONG TURN...
Latest Reviews
There are no reviews for this listing yet!