Camp Fontanelle's Scary Corn Maze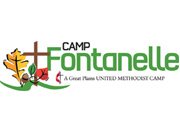 Have you ever walked . . . . all alone . . . . in the depths . . . . . of a scary maze . . . all alone . . . . but knowing that each rustle of the corn . . . . really means you are not alone! Once you've entered . . . . there's no turning back . . . . . and there's no guarantee . . . . that you'll find your way out!!

Haunted houses provide great fun and frights each Halloween season, however a scary corn maze raises the thrills to a whole new level. Maze and activities are open to the public on weekends during maze season. Groups can make reservations outside of regular hours.

The 9 acre maze takes approximately 45 min. - 1 hour to solve the long part and 10-20 minutes for the short part during the day with a map. Imagine the fun you'll have solving the maze at night! Bring a flashlight and extra batteries. There is safety in numbers. The scary maze may not be appropriate for smaller children or those easily scared though there will be a "dark only" portion with no spooks this year that will be better for the younger crowd. Great for a date, at dusk a free outdoor movie will also be shown on our big screen on scary nights. Bring your own lawn chair and s'mores and sit around a campfire while watching the movie.





Latest Reviews
There are no reviews for this listing yet!