Corner of Chaos: Scream Acres - Reopening in 2017!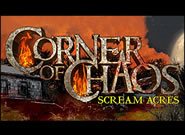 Have you walked alone in woods? Or been home alone on a stormy night? How scared have you really been…? not enough. Visit Corner of Chaos, where fear is only the beginning. Walk in a bloodied barnyard, quake on the wicked wagon, tread in treacherous woods, and scream in chaotic corn. Too scared? Visit the kiosk for live dance, fire shows, food and more. Four Attractions, four show, one place... Corner of Chaos

Located 3 miles off of exit 8 on the NJ Turnpike.
Latest Reviews
There are no reviews for this listing yet!