DarkSyde Acres Haunted House and Attractions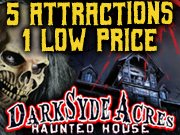 DarkSyde Acres Haunted House and Attractions
11375 Rowe Road
Jonesville, MI
Click To Call
517-549-5100
517-549-5100
Review Us



Haunted House and Halloween Attractions:

Darksyde Acres Haunted House and Halloween Attractions, located in Jonesville, Michigan, just off U.S.12. With multiple Haunted Houses and Attractions this Halloween Season, there is something for the whole family. From Extreme Haunts to kid friendly Hay Rides.

70,000 SQ Feet Of In Your Face Terror. Over 5000 SQ Ft Indoor & Interactive Waiting Area.

The Catacombs:
Buried deep beneath DarkSyde Acres Haunted House in Jonesville, Michigan, lies a labyrinth of Zombie filled Horrors. These are not your run of the mill, slow moving, one shot to the head drops them dead Zombies. DarkSyde Zombies were created in a Testing Laboratory onced housed within this facility.What were they testing for? Who were these test subjects? Why are they so Hungry for the flesh of the living?

Are you prepared to be assaulted by the Zombie Hordes at DarkSyde Acres within the walls of The Catacombs?

3D KlowneTowne:
Michigan's Largest and Darkest Black Maze. Terrorizing Scares await you around every corner, every Twist, Everywhere! Loud Music, Strobe Lights, Extreme Darkness all come together to disorientate you and assault your senses. Are you afraid of the dark? YOU SHOULD BE! The industrial terrors that roam the black hallways of the Rusthole are always looking to add a new guest to one of their cages.

Darksydes very own Rustholians have returned to claim one last victim, will it be YOU? The Rust Hole will leave you Mentally Damaged for life.
Warning! Extreme violence and Graphic situations

The Abyss:
Michigan's Only Haunted Pirate ship has been Unearthed at Darksyde Acres Haunted house. Within its haunted hull, awaits the Zombie crew of the Dark Abyss. Commanded by non-other than the cursed soul of Captain Carcass and his not so lovely Blood Thirsty bride to be, Bloody Mary! Be warned this isn't no Pirates of the Caribbean ride at Disney World, These Pirates are out for Blood, Possibly YOURS!

Word to the wise, beware of the Lady Chop Chop, she is quick with the cleaver when it comes time to cook up her special stew. Be ye crew or stew? Be sure to come out and see what the crew of the Dark Abyss has in store for you this Halloween season.

The Dark Abyss Haunted Attraction has been voted the number one Haunted House at DarkSyde Acres year after year, due to its extreme nature and graphic detail.
Warning! Not for the Faint of heart.

HayRide:
This Haunted Attraction Is Weather Permitting.

Created in 2012, Hayride at the Darksyde is a Family Friendly Hayride that is over 1 mile Long and full of Halloween Fun for the Whole Family. Climb on board one of our hay wagons, take a seat and get ready for a No Scare hay ride through the back forty acres that is fun and relaxing for the young and old alike, while festive Halloween Music sets the mood.

The DarkSyde Acres hay ride is one of our Family Friendly Out Door Attractions, with a no scare atmosphere created so the younger guests and those that frighten easily can still have a good time and enjoy the Halloween experience at our Haunted House in 2014. Take a trip through an abandoned and long since forgotten Cemetery, a playground where the only the ghosts come out to play, a UFO Crash Site and more……

Warning! Bring the family and enjoy all of our outdoor family fun events at DarkSyde Acres

The Labyrinth:
This Haunted Attraction is Weather Permitting.
DarkSyde Acres has nearly doubled the size of our Family Friendly outdoor maze for those to scared to enter the Indoor Haunted Houses. Inhabited by the everso not fierce and un-intimidating Panda bear of DarkSyde Acres with a few of his equally wacky friends. This silly trio is sure to send you the wrong way every time.

Full of twists and turns, you're sure to get lost…pack a lunch and bring a friend, this could take awhile. The Labyrinth is a NO SCARE Family Friendly attraction designed as an affordable way for the younger guests and those to scared to go into the indoor Haunted Houses to be able to experience DarkSyde Acres. You will find the Labyrinth situated near the Midway events.

Warning! This is not a Corn Maze.

Zombie Massacre Paintball:
Michigan's one and only Original Zombie Paintball Challenge where you can shoot live action Zombies with Paintball guns. The Zombie Master Jared at DarkSyde Acres Haunted House dragged a few of the more violent Zombies, that didnt play well with others out of the Catacombs and placed them inside of the Zombie Paintball secured shooting gallery. On top of that we have outfitted our shooters with military grade AR-15 style Paintball Guns for maximum destruction! Everyone loves shooting Zombies, now is YOUR chance, Get in line, Grab a gun and start shooting. Best part of DarkSyde Acres Zombie Paintball is that the zombies DONT shoot back!

Darksyde Carnivale:
A mish mosh of degenerates from all corners of the earth put together for your viewing entertainment! This traveling band of Gypsie rogues camped out at DarkSyde one night last summer and never left.

Fire eating, Fire breathing, Fire poi, Bed of Nails, Glass eating, Juggling, Fortunes read, you name it. These psychos are doing it every weekend during haunt season. They've even got a not so honest to goodness Ring leader, who goes by the name of Ring Master Baiter, who runs the show and is control of all of his little evil minions at the DarkSyde Carnivale.

Be sure to visit our midway and catch their freakish acts of self mutilations.

September 2017
Su
M
Tu
W
Th
F
Sa
1
2
3
4
5
6
7
8
9
10
11
12
13
14
15
16
17
18
19
20
21
22
23
24
25
26
27
28
29
30
October 2017
Su
M
Tu
W
Th
F
Sa
1
2
3
4
5
6
7
8
9
10
11
12
13
14
15
16
17
18
19
20
21
22
23
24
25
26
27
28
29
30
31
November 2017
Su
M
Tu
W
Th
F
Sa
1
2
3
4
5
6
7
8
9
10
11
12
13
14
15
16
17
18
19
20
21
22
23
24
25
26
27
28
29
30
Hot chick shoots zombie in nuts
Latest Reviews
There are no reviews for this listing yet!