Gravestone Manor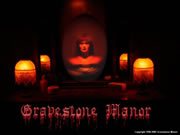 Gravestone Manor is arguably Pennsylvania's most unique haunted house attraction. Don't come expecting air horns, pointless dark corridors, and madmen wearing hockey masks. You won't even find a single chainsaw in operation at Gravestone Manor.

So, what should you expect?

Gravestone Manor is a theatrical presentation, where the audience joins the cast - traveling through an elaborate set. More akin to a play than a traditional haunted house, there are still plenty of scares. As a matter of fact, Gravestone Manor is not intended for children under 8 years of age.

Our attraction is designed, constructed and staffed entirely by volunteers who donate their time in support of the United Way of Wyoming Valley. This year will mark our 18th season.

2016 Show:
For 2016 Gravestone Manor unleashes an all-new story line, new rooms and new special effects!

Something odd is happening in a patch of woods just off route 315 in Plains, Pennsylvania. People keep vanishing. Not so many people, or so frequently, that it couldn't be attributed to ordinary, undetermined causes. However, one lone detective with a dingy office in the basement of his precinct has other ideas about what might be happening out there in the woods. Strange ideas.

Everyone who buys a ticket to this year's show will become an apprentice detective. You will join this veteran investigator as we look into the latest car crash. Together, we will follow the clues to the dark places they lead. Gravestone Manor is a unique blend of interactive live theatre with haunted house style scares.




Latest Reviews
There are no reviews for this listing yet!