Gray Ghost of Bay City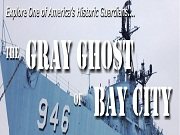 Metro Paranormal Investigation ran guided tours of Fort Wayne for five years before restrictions forced them to stop holding tours. They will now offer tours of unexplained activity surrounding the USS Edson instead. The USS Edson is a Forrest Sherman-class destroyer commissioned in 1958 by the U.S. Navy. While serving in the Vietnam War and Cold War, it shot more five inch shells than any other destroyer. Guests are offered a tour of the ship by experienced paranormal investigators and told stories of its history and paranormal activity before they are allowed to ghost hunt on their own.
Latest Reviews
There are no reviews for this listing yet!