Greta's Attic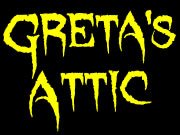 The young neighbor girl from next door has been missing for almost a week. Her father has been taken in for questioning, but you are certain he is innocent. You and your friends decide to check out Greta's attic. After all, she did spend a lot of time there... Will you find out what happened to Greta?

Greta's Attic is the first haunted escape experience brought to you by A Narrow Escape in Hot Springs. Combining aspects of haunted houses and escape rooms, Greta's Attic is a 15-minute interactive haunted adventure for you and up to 3 friends.

Due to the content, Greta's Attic has an age minimum of 13 years. Anyone under the age of 13 will need a parent present with express written consent.
Latest Reviews
There are no reviews for this listing yet!