Hands 4 Hope Haunted House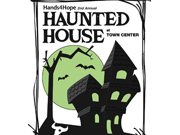 The Haunted House at El Dorado Hills Town Center is an annual tradition in El Dorado County.? Covering over 2,200 square feet of donated space in the El Dorado Hills Town Center, the custom build began in August with a fleet of passionate and dedicated volunteers who work with Hands4Hope youth to design, build, decorate, paint, and staff the haunted house. A staff of over 10 adults and 30 youth are trained, costumed, and choreographed to deliver a terrifying experience for over 3,000 guests. Bring your friends and family for a chilling night at the Haunted Hills Asylum! Don't forget to read the Warnings!
Latest Reviews
There are no reviews for this listing yet!