Hunt Club Farm's Halloween Festival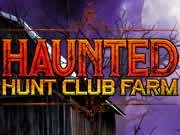 Haunted Hunt Club Farm's Annual Haunted Halloween Festival, featuring The Village of the Dead, Field of Screams & Hampton Roads' Best Haunted Hayride!

Field of Screams:
There are few things creepier than a cornfield at nighttime, and the Field of Screams is no different. Everyone around these parts knows that more than corn comes out of the ground in this field. Revered as the festival's most up close and personal event, the dark and winding maze puts thrill-seekers and flesh-eating zombies on the same narrow, dimly-lit path of peril. And while nothing in here will officially harm you, we can't promise the corn-stalking immortals won't try to make you one of their own. Flesh, brains and blood? That's what's for dinner at this attraction, and the creatures of the night eagerly await your arrival...

Haunted Hayride
The festival's most-feared attraction, the Haunted Hayride – Virginia Beach's original hayride – will take voyeurs on a bumpy ride through the deep, dark woods of Haunted Hunt Club Farm. Climb aboard for a chilling look at the farm's own FREAK SHOW as dozens of diabolical degenerates show you their voodoo and black magic. Don't think your friends on the hay wagon can protect you from the murderous mayhem. The path through these woods is narrow, especially the one through the decrepit old barn, located just past the farm's ominous graveyard. And our tractors have been known to break down at the most inopportune times. All we can say is: Be ready and beware. These grounds are crawling with freaks of nature?

Village of the Dead
Take a trip to the Village of the Dead, but you might want to plan to stay a while, as the villagers focus on captivity in all of its various forms. How will the savage village inhabitants imprison, confine and enslave visitors of their torturous town of terror? Will it be with rope? Chains? Cuffs? Traps? Or the ultimate captivity… A coffin? Will you be one of the lucky ones to escape restraint and tell your twisted tale? Or will the village be your final resting place? Find out just how far these barbarians will go during this walk on the wild side.
Latest Reviews
There are no reviews for this listing yet!