Haunted School of Terror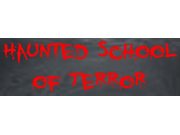 Dead tired of the same old routine? Same old haunted houses killing you? Come join us at the Haunted School Of Terror and check out our eternal agenda. Take an elevator ride to the 3rd floor & let class begin! You may be deathly surprised who you may see from school..an old school mate? Perhaps a best friend? Boyfriend/Girlfriend? Teachers? Only you can come and find out...Built in 1939, this school has taught a lot of souls. So let's see if you can earn your diploma and make it out alive...

2 Floors of fear! One of the Valley's largest indoor climate controlled mazes.

New for 2016? - The Barn:
Experience The Barn as 'The Boogeyman, Hallowed Jack and The Candycorn Scarecrow' jump off the silver screen and become a menacing live attraction at The Haunted School of Terror this Halloween season!

From the mastermind of the Haunted School of Terror and the actor who portrayed 'The Candycorn Scarecrow' and 'Hallowed Jack' in THE BARN', comes the same heart pounding experience of the horrors that Sam, Josh, Michelle, Chris, Nikki and Russell witnessed. Can you survive the monsters of THE BARN?
The Barn Official Trailer
Latest Reviews
There are no reviews for this listing yet!