Haunted Trail in Holley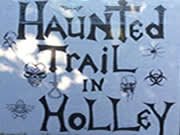 Haunted Trail in Holley, NY. Is an outside Haunted House!!

It's a haunted house, but it's not indoors. It's set up in the woods. The trees are used to uphold the dividers so you have no clue what your next scene is.... Will it be a cemetary, clowns, mass murderers that want new victims, or your worst phobia come true??? You'll find out when you come, IF you make it back.......

A long stroll through some of the scariest scenes around. Become a part of a scene as you pass through...
Latest Reviews
There are no reviews for this listing yet!