Hauntedweb of Horrors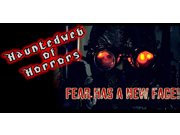 Hauntedweb of Horrors is the scariest and most innovative haunted attraction in Memphis, TN. Hauntedweb of Horrors is back this Halloween season featuring not two but three haunt experiences for you to choose from at one location. The"Tormented" and "Dark Matter" haunts will play on your fears and send chills down your spine. Each haunt will have something frightful in store to suit everyone's taste for a good scream this Halloween season.

The Dark Matter:
Dark Matter is visual thrill of darkness and light created by the Dr HAcker in his attempts to drive the sane, insane. With 3D glasses you too can experience what maddened his victims. Let's hope you escape with your life and your mind.

Tormented:
In Tormented you will enter Dr. HAcker's twisted asylum. The good doctor wanted to try and cure insanity by learning techniques that drove people to maddness. He had so much fun that he never bothered to cure his patients. Those that died were discarded into the dark woods behind the aslyum where the resident Crawley Family considered them... food for thought.

Twisted:
Enter into the Twisted maze of Horror where your senses will be tested to the max as you try and find your way out of the insanity.

Latest Reviews
There are no reviews for this listing yet!