Hill of Terror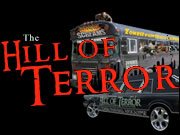 Hill of Terror is overrun with all your fears as we enter into our fifth year. On our desolate 100 acre property everything that you can imagine that you were ever afraid of will be coming to life all around you. This self-guided tour will be an experience you will never forget.

Hill of Terror has created some new fiendish scares
that we are dying for you to see. In past years the
Zombies have attacked you on the hayride to Hill of
Terror, but this year it is your turn to get some revenge.

You will be able to shoot the Zombies with paint ball guns, as they try to attack the trailer on your way up the hill. (hosted by Rootin Tootin Paint ball). The Trailer will have guns on both sides so you can get your sweet revenge. Of course we still have our favorites to keep you company as well, like our LAST RIDE where you are in a casket being buried alive.

This journey is not for the weak, because we have NO
MERCY as you pay to get in but pray to get out!

COME IF YOU DARE...............

Latest Reviews
There are no reviews for this listing yet!