Zombie Apocalypse at iCOMBAT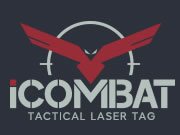 Zombie Apocalypse:

Zombies are taking over this weekend! Friday and Saturday is the start of the Apocalypse at iCOMBAT! Join in on this terrifying apocalypse and take your shot at surviving.

The Walking Dead has come alive at iCOMBAT. Join in now for a thrilling Apocalypse session and see if you have what it takes to stay alive!
Survive the Zombie Apocalypse at iCOMBAT Waukesha
Latest Reviews
There are no reviews for this listing yet!