Kankakee Valley Haunted Trail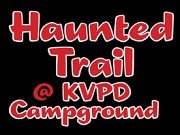 Kankakee Valley Haunted Trail
1895 River Road
Kankakee, IL
Click To Call
815-939-1311 ext. 711
Review Us


Come out to 1895 River Road just past the Centrue Bank Sport Complex on the right side to our KVPD Campground. Parking is free and there are two sides to choose from. We have a Family Village on one side with activities, treats, and a movie for the kids. The other side is a guided tour through the woods in which around every turn is something unexpected. The Manteno State Hospital has been shut down since 1985 as well as Kankakee State Hospital. It said that some of the dead were buried here in the graveyard on River Road set aside for the state mental hospital. Unfortunately, there are reports of crazed zombie like people that wonder the grounds of River Road late on a moonlit night, in search of brains. The graves have been reported to be disturbed.

Do the former residents reside in our campground woods? Why don't you come and see for yourself? Be sure to wear your running shoes . . . if you dare.
Latest Reviews
There are no reviews for this listing yet!