Kevin McCurdy's Haunted Mansion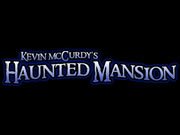 Welcome to Kevin McCurdy's Haunted Mansion, the original Hudson Valley Halloween tradition! The Haunted Mansion has created original stories and scenes that have haunted the nightmares of our guests for 40 Years!

There have been over 800 different rooms built for one purpose....to scare you. Through those years there have been many great ideas that we didn't get to create, some were too bizarre, too demented, or just too extreme.

On our 40th year we have decided to bring those ideas "Back to Life". Ideas so crazy, they deserve to have their place in Haunted Mansion history! So get ready, keep an open mind, and don't freak out..

The Calling:
In the small town of Framington there is a legend....Every child learns of it, every grownup fears it...

In this seemingly quite village there is a dark secret. Like any small farm community - the scarecrow protects the crops. Standing vigilant aganist the moonlit sky. But every 40 years the scarecrow needs to be relpaced. Now with Hay or Straw. With another human soul!

As long as this happens the townspeople can prosper. Tonight is the night to give the demon what he wants....Will you be called to be the next sacrifice?

Fright Trail:
Your group is asked to follow the trail. There seems to be more trees ahead. Something is heard in the distance.
Its getting closer. When your alone in the dark, sound can play tricks on you but seldom does it reward you with treats.

This year expect something completely different.
Can you challenge yourself to keep your imagination from running wild. You'll be asked to perform certain tasks, none of which you would ever think of doing in real life. But thats why your here...right?

Latest Reviews
There are no reviews for this listing yet!