Michigan Escape Games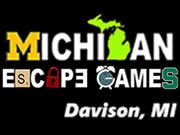 A Fun, New Entertainment concept for Mid-Michigan, an Escape Game is a real-life adventure game designed for small groups of up to 12 people. Challenging your wits and skills to find clues and solve ciphers. The game will test your ability to work as a team as you attempt to escape from a locked room in under 60 minutes!

CheckMate (75 Minute Escape Game) - 8-12 Players
Featuring a myriad of nostalgic games that even includes an antique pinball machine, this newest escape will give everyone numerous challenges to conquer. Not for the faint of heart, this is our largest Escape room with a multitude of perplexing puzzles to match. Teams of 10-12 will have the best chance of escaping.

CDC Laboratories - Viral Containment - 4-7 Players
It has a theme that will be right up the alley of most people that like haunts, (Not necessarily "scary", but it will definitely get the heebie-jeebies going for some folks.) The CDC Labs is our most popular escape room!

The Heist - 3-6 Players
The Heist holds secrets and GREAT PUZZLES that are challenging and fun that is great for all ages. The puzzles build in complexity right up to the final clues that you must put together to escape before the crime lord returns to catch you red-handed.

Mission Impossibly - 3-5 Players (Recommended for ages 14 and up)
It is an adventure escape room for those spy-hero wannabes! Lots of great clues to decode and physical puzzles to solve. Can you decipher the defusing code and stop the bomb from exploding in time? Due to safety requirements, this room is not recommended for anyone under 14.
For ages 14 and up. (Those under 16 must be accompanied by an adult.)

CSI Homicide Detectives - 4-8 Players
CSI Homicide Detectives features puzzles surrounding the evidence, motives and suspects. You might escape the room, but do you have the sleuthing skills to solve the murder too? A perplexing room for up to 8 rookie detectives! (There are TWO CSI rooms that alternate every three weeks. CSI (b) is a bloody and more violent murder than CSI (a). )

Steampunk Time Machine (45 minute escape) - 4-8 Players
Through some strange phenomenon, you've been transported to 1893 where you find yourself in mysterious room at a railway depot. Are you industrious enough to discover the means to teleport back to the present using nothing more than strange objects and contraptions around you, or will you be forever trapped in this room of steam-powered techno-wizardry?

The Abduction - 6-9 Players
You awaken to find yourself restrained in a darkened cellar along with your friends. As your eyes strain to focus on what little light there is, you must use your wits and what you find around you to unbind yourself and your friends in an attempt to escape your captor before he returns to wreak havoc like he has with so many other victims.

The Dwelling is our Newest escape. 6-12 players.
Silence can be Deadly: You'll encounter Paranormal Diversions as you solve the puzzles to escape the Manor House now haunted by the ghosts of the infamous DreadLands Slayer and his victims. Designed and built to compete with the best Escape Games in the world, this premium escape adventure will dazzle your senses and thoroughly test your wits. This Dwelling requires EVERYONE to use stairs, stoop or bend sharply at the waist and is not recommended for the elderly, anyone with a heart condition or along in pregnancy or susceptible to seizures.

September
Su
M
Tu
W
Th
F
Sa
1
2
3
4
5
6
7
8
9
10
11
12
13
14
15
16
17
18
19
20
21
22
23
24
25
26
27
28
29
30
October
Su
M
Tu
W
Th
F
Sa
1
2
3
4
5
6
7
8
9
10
11
12
13
14
15
16
17
18
19
20
21
22
23
24
25
26
27
28
29
30
31
November
Su
M
Tu
W
Th
F
Sa
1
2
3
4
5
6
7
8
9
10
11
12
13
14
15
16
17
18
19
20
21
22
23
24
25
26
27
28
29
30
Michigan Escape Games - Do You Think You Can Escape?
Latest Reviews
There are no reviews for this listing yet!