Mount Mayhem Haunted House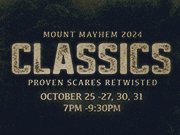 For centuries, as night falls, the creatures of the dusk have been swarming among us without any restrictions. The Glomung creatures inhabited The Darklings last year at Mount Mayhem. The result is that the children of the orphanage have now vowed their allegiances to the creatures of the Glowmung. No one knows what the outcomes lies but it is certain that as the sun sets these creatures will make themselves known at Mount Mayhem.

A family friendly haunt in its sixth year. Minors must be accompanied by an adult. There is no charge.
Mount Mayhem Haunted House 2016: Glomung (Official Teaser
Latest Reviews
There are no reviews for this listing yet!