New Bern Ghostwalk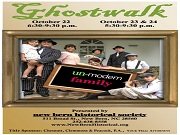 The New Bern Historical Society presents their long-lived ghostwalk, with chilling tales to accompany the creepiest spots in town.

ALL 18 Ghost Sites, including Agony Alley, and the Athens and Masonic Theatres AS WELL AS Cedar Grove Cemetery, as seen in the filming of Fox network's Sleepy Hollow! New Bern Historical Society presents un-modern family!!!

Ghostwalk is a three evening event that allows guests to step into New Bern's past. This year you will meet many of the families that lived here throughout the centuries and continue to haunt our city. As night falls in New Bern's Historic District these ghostly families will reappear, so be on the lookout!
Latest Reviews
There are no reviews for this listing yet!