Nightfall at Old Tucson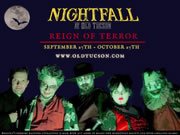 Does your average haunted house leave you wanting?

Come to the only ONE REAL WESTERN HAUNTED TOWN … NIGHTFALL!

Bury yourself in a totally terrifying town with outrageous live shows, disturbing haunts, and a collection of hideous live characters - including the GARGOYLES!

For the faint of heart, there is a family-friendly area with lots of Halloween atmosphere without the "Boo" Factor.

NIGHTFALL IS PACKED WITH ENTERTAINMENT! LIVE SHOWS! HAUNTED ATTRACTIONS! AND MORE!

The Gargoyles - Insulting commentary from 30 feet u. (Not for the easily offended)

OPENING CEREMONY - Join us in Terror Square as we kick off the evening with the gargoyles, haunt characters and a couple of VIPs (Villainous – Inhumane – Psychopaths)!

HAUNTED ATTRACTIONS!

TERROR SQUARE
Enter Nightfall for a "welcome" extended by characters of dubious distinction – some are benign, most are not!

IRON DOOR HAUNTED MINE
Iron Door Mine is a perennial favorite of the young, old, and in-between. Venture on a perilous journey into a subterranean network of tunnels rumored to be haunted by the souls of cursed miners. Doomed to work this mine for eternity, they will stop at nothing to find their ultimate mother lode…death!

DOOMTOWN
Nightfall has expanded! An all new area of fun and fear has opened up to the North and East corner of the park now known as Doom Town! In Doom Town, you will find two new haunted attractions, "The Dead Horse Saloon" and "Rattlesnake Gulch" along with food and drink of all kinds! Come explore some new territory. Come explore Doom Town!

RATTLESNAKE MINE
Doom Town is there at the end of this trail.
But heed you this warning, do so without fail.
Stay true to the path and do not delay.
For those who do not shall not see the day.

DEAD HORSE SALOON
Legend holds that by the light of the moon dark figures take shape in the town they call Doom.
From their graves they return to a place they knew well, a place which for them is 'tween heaven and hell.
Can you hear those strange voices there under the moon?
The spirits have gathered at the Dead Horse Saloon.

CREEPY CRAWLY CAVE
Parents must be accompanied by children.



September
Su
M
Tu
W
Th
F
Sa
1
2
3
4
5
6
7
8
9
10
11
12
13
14
15
16
17
18
19
20
21
22
23
24
25
26
27
28
29
30
October
Su
M
Tu
W
Th
F
Sa
1
2
3
4
5
6
7
8
9
10
11
12
13
14
15
16
17
18
19
20
21
22
23
24
25
26
27
28
29
30
31
November
Su
M
Tu
W
Th
F
Sa
1
2
3
4
5
6
7
8
9
10
11
12
13
14
15
16
17
18
19
20
21
22
23
24
25
26
27
28
29
30
Latest Reviews
There are no reviews for this listing yet!