Nightmare on Main Street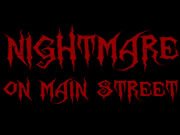 Nightmare on Main St Haunted House in Vernon TX is an experience that will arouse feelings of intense fear, horror and distress. You will enter our 5000 sq ft historic building roaming through 32 rooms that could only exist in your darkest dreams not knowing when you will wake up from this nightmare or if it's real. We promise to make the hair stand up on your neck, and run off screaming.

To stay updated throughout the coming year visit out new Blog Area for more information.
Nightmare on Main St NM 12
Latest Reviews
There are no reviews for this listing yet!