Nightmares Live Haunted Attraction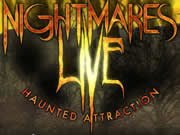 Nightmares Live Haunted Attraction
64-1550 Kamehameha Hwy
Wahiawa, HI
Review Us
In 1998, a group of staff members at a local community college built a haunted house made of cardboard refrigerator walls, black lights, plastic skeletons and cheap plastic masks. That year, the haunt opened for four hours on a single day, exclusively to faculty and staff. Over the years, the group expanded the house, making it more elaborate, and it became a quietly popular college event.
It attracted the attention of a well-respected local promoter, who liked the designs so much, he asked the team to produce his haunt at the Neal Blaisdell Center. From there, the team's small production grew to something much bigger.
Today, Nightmares Live employs a team of nearly fifty and designs multiple attractions each year. Yet we still share our same love for Halloween and creating a fun, exciting Halloween experience for others.
Check out our main attractions at Wahiawa's Dole Plantation, as well as additional events to come.
* * *
Nightmares Live Haunted Attraction is a professional haunted house located in Honolulu, Hawaii. With years of experience in the haunt industry, we offer guests the ultimate Halloween experience they will never forget! Find your way through long mazes of in-your-face terror, complete with live actors, top-notch props and costumes, intense audio, horror movie set design and more. Every year, we redesign each of our attractions, creating new sets with new characters and experiences for visitors. We employ a year-round crew who is dedicated and who has the passion for Halloween and haunted houses.
Latest Reviews
There are no reviews for this listing yet!