Pergamum: Where the Dead Come to Life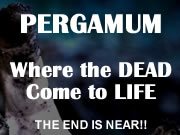 Pergamum is an apocalyptic barn full of scary rooms with crazy clowns, zombies, and other terrifying things! We are family friendly in the sense that there will be no nudity or bad language, but we are scary! Do you hate standing in long lines? We have the solution for you. We are doing away with long line queues and give tours by appointments. Make your appointment by text to (740)274-9580 today!
Pergamum 2016: Where the dead come to life!
Latest Reviews
What a neat haunted house! The 'house' is in their barn in the back, so we totally weren't expecting this. Nicely done!

Posted 7/27/17