Deranged Souls by Scare Hawaii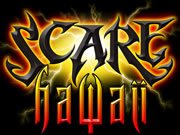 Scare Hawaii builds haunted attractions that brings out the fears you have all tried to lock away. "The EvOLuTiOn Of FeAR" begins HeRe!

Scare Hawaii haunted house attractions is proud too present "Deranged souls"! Beware of what you wish for. Located at Windward mall in Kaneohe in the old sports Authority!

Hawaii's Ultimate Haunted Attraction: We're not for little children. Our Halloween Attraction is unique and extremely scary! We build our Haunt with your greatest fears in mind. You'll, never know what to expect when you visit the scare Hawaii haunted attraction, So expect the unexpected and get ready to Scream!

EXPECT THE UNEXPECTED
Through life, we have built defences and mental blocks to shield us and make us feel safe. We tuck and hide our deepest emotions of fear so we can live life. Scare Hawaii strives to bring those fears back to the surface. We build our haunts just for you. Each person will experience different evolutions of their fear. It is a terrifying experience that is to be kept secret. Expect what is unexpected. Are you brave enough to step inside?

YOU WILL EXPERIENCE
You will experience loud audio, lighting, extremely low visibility, flashing lights, fog, special effects, and sudden actions by actors. Our sole purpose is to expose you to what hides in your deepest locked away thoughts. We bring you through an evolution of fear. This will be a mentally and physically draining experience you will not forget. Be prepared!
Latest Reviews
There are no reviews for this listing yet!