School District 13 Haunted Attraction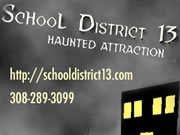 District 13 is western Nebraska's #1 haunted attraction featuring three haunts, great food, and fun activities for all ages! School District 13 has three haunted attractions:

Prom Night Massacre at the Community Hall
Mr. Wiggle's Wood Shop
Dr. Doom's Science Room

Experience the bone chilling horror of prom night at the District 13 school. This indoor haunted attraction is appropriate for ages 10 and up. The Prom Night Massacre is located at the Community Hall on State Street. Patrons can ride the Hay Rack Ride or the Train to the Community Hall.

Dr. Doom's Science Room is not your typical high school science class. Pass through the corridors that lead to Dr. Doom's grim experiments, but don't linger too long! Appropriate for ages 10 and up.

Visit Mr. Wiggle's wood shop full of students working hard at unspeakably heinous projects. Come see what they've built this semester, if you dare! For ages 10 and up.

On Friday we make the haunts and activities more kid friendly for families with young children! Young children are provided with glow sticks (magic wands), and, when waved at a monster inside of one of the haunted attractions, the monster will provide a treat instead of a scare. If your group doesn't have a magic wand, well… the monsters will do whatever they feel like doing and you're on your own.

After you park your car in the designated parking area, the Hay Rack Ride or the Train Ride will take you to the various haunted attractions and other activities.


Latest Reviews
There are no reviews for this listing yet!