Scream on the Trail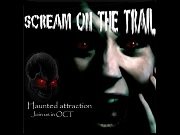 Scream on the Trail is an outdoor trail that is full of startles and hardcore scares, Scream on the Trail full terror is not recommended for the easily scared....

Have kids or easily scared? Make sure to ask the gatekeeper for the kiddie scare version!

You enter the trail walking down a creepy old dirt road, High brush on your left prevents you from seeing what you have gotten yourself into... As you walk forward you'll eventually see an old withered garden to your left, A lot of strange sightings have been reported in this garden and on moon filled nights it has been the turn back point for many who could see too much!
Latest Reviews
There are no reviews for this listing yet!