7 Seat Bike Tours: The Ghastly History of Milwaukee's East Side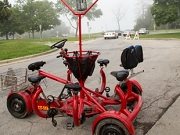 Ghastly History Of The East Side Milwaukee Ghost Tour.

Where did teams of men under the influence of high pay and strong liquor bring cartloads of bodies to be dumped in shallow graves day after day? Where were 'incorrigible young girls' sent to be prepared for 'honest and useful lives?' What human remains are buried under Lake Park? On our Milwaukee ghost tour, you'll hear fascinating tales of the absurd, horrific, and the extraordinary.

Starting point of Milwaukee ghost tour is the corner of North and Prospect near the entrance to Whole Foods.

Milwaukee Ghost Tours run approximately 1:45 minutes, departing Saturday nights and other times by request.

Latest Reviews
There are no reviews for this listing yet!