Soul Takers Acres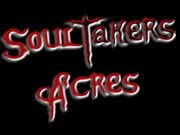 The Native Americans had a name for him, "Wanetaqua". This meant taker of life. The early settler's who came to the lakes region knew him as the "LoopGaru", the "Taker of Souls". Whatever the name, the legend remained the same. Each fall when the Autumn moon came full the "Soul Taker" would rise up from the bowels of the earth and stalk unsuspecting victims and return them to his netherworld kingdom deep below the lakes of Northern Indiana. Now he is back and he is looking for new victims to claim.

Be here every Friday and Saturday night in October when Indiana's favorite haunted house returns for its' forth big season! Enjoy ten big nights of terror as the Soultaker once more returns to wreak his revenge on the Lake City. Did we frighten you last year? Then God help you this year!! This years' haunt features more twists, more turns, and more darkness than ever. In addition we proudly present a new feature, Dr. Colodius Blackstones' Chamber of Horrors. An old fashioned carnival side show with a dark twist. If you enjoy the strange, the bizarre, and the unusual then Dr. Blackstone may just have your prescription! Be there if you dare, when the soultaker makes his return.
Latest Reviews
There are no reviews for this listing yet!