The Haunting at Horse Creek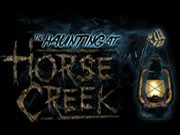 Hidden away in the Northeast corner of Jefferson County lurks what many haunt enthusiasts consider the most unique and genuinely frightening haunted event in Southern Illinois. Upon arrival visitors enjoy a light-hearted hayride into the surrounding dark woods, but once the wagon stops, and they disembark the mood changes. Dancing flames draw them close to hear an original ghost story inspired by area lore. When the storyteller has finished, participants are divided into groups, provided a single light, and sent on an unguided walk. Beneath the trees, the sounds of the night toy with the imagination, beasts lurk at the edge of sight, and dark figures creep ever closer. Ahead the trail promises deliverance but is that all that awaits? Experience the terror anew this October.
Latest Reviews
There are no reviews for this listing yet!