The V Haunt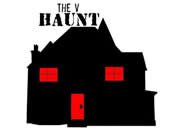 Do you like long dark scary hallways, a room full of clowns? How about a butcher room with a butcher who would love for you to be his next victim? If you're lucky enough to escape him you will enter a maze with a psychotic clown who wears the faces of his victims from last year. Oh yeah he also loves his chainsaw and wants to share it with you. If this for any reason sounds like something that you would want to experience, then come on down and visit us here at The V Haunt ,See you there.
The V Haunt 2016 commercial
Latest Reviews
There are no reviews for this listing yet!