The Fear Experience Haunted House (Returning For 2017)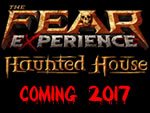 4 AWARD WINNING HAUNTED HOUSES

In the past few years, The Fear Experience has grown to dominate Cleveland's Haunted House scene. The show has nearly doubled in size every year since 2012 – and this year is no exception. For 2015, their team has recreated and expanded three of the attractions bringing the show to 5 massive attractions. The team at The Fear Experience has worked year round to produce one of the best haunted houses in the country for 2015. They are promising that Cleveland has never seen haunted houses like these before. One of the new attractions, BioTeck Solutions, is an ultra-realistic research lab. Guests will experience scale, incredible attention to detail, and terrifying scares. The size and quality of the attractions is just one part of The Fear Experience. The management team is also devoted to utilizing actors to create the best show possible. The staff trains in acting and makeup for over two months before The Fear Experience opens for the Halloween Season. In these training sessions, actors learn how to startle, entertain, and engage each customer to create an unforgettable night.

The most unique part of The Fear Experience can be found in their brand new attraction for 2015: Zombie Warfare – Death Row. In the Zombie Warfare attraction, the customers get to fight back! Each guest receives a military grade, infrared training weapon that is an exact replica of a real M4. As they travel through the zombie filled prison, guests shoot the actors who are wearing headbands which light up when hit. The Fear Experience staff is confident that this new type of entertainment will make the event even more fun and exciting in 2015.

Zombie Warfare LIve Combat Experience Death Row
Want your chance to fight back? Experience our brand NEW attraction: Zombie Warfare – Death Row! You will receive an infrared military training weapon that you will use to shoot oncoming hordes of zombies! Our zombies will be wearing targets that light up when you get a head shot! Don't miss your chance to experience this totally new event! This attraction is an additional $10

Bioteck Solutions was once an acclaimed research facility, until a government raid revealed more sinister experiments. Grotesque tests using live human subjects were discovered in hidden sections of the facility. Travel your way through the laboratories, morgues, and cells and try to escape with your life.

The Centralia County Fair and Circus has been closed for decades, but you will get to sneak into the not so abandoned carnival. Take our advice, you don't want to win a prize at the midway or stop for a snack at the burnt down food truck. If you and your friends can make it that far, try your luck in the funhouse complete with mazes, clowns, and a freakshow. Please don't try to pet the lizard-boy or wolf-man: sometimes they bite. This Haunted House in Cleveland has been noted as one of the most unique haunted houses of its type by critics.

District 13 is the fourth and final haunted house at The Fear Experience. In District 13, your mind will be pushed to its limits as you try and escape the industrial wasteland. Our monsters will be hiding around every corner, scaring you from all sides. Don't lose your friends while you're finding your way to safety. If you're having trouble finding the only way out, just move towards the sound of chainsaws. Buy your haunted house tickets today to experience all 4 attractions

The Estate was once a lavish mansion, now only cobwebs remains. The mansion was closed off to the public after a gruesome crime scene was discovered there. Sneak back in and travel through the old rooms and corridors of The Braxton Estate. Wade through dead bodies, find your way through the pitch black basement, and see where the Braxton Family hid their secrets. Finally, travel out to the back shed where the horrifying murders occurred. This award winning Cleveland Ohio haunted house is always a crowd favorite!
Best Haunted Houses in Cleveland 2014 - The Fear Experience
Latest Reviews
There are no reviews for this listing yet!