The Haunted Forest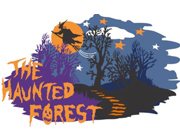 Vermont's most beloved, largest and longest running Haunted production in the State! Come enjoy this unique annual celebration of Halloween! Walk our mile-long trail through the forest lined with almost a thousand uniquely carved glowing pumpkins and enjoy scary, creepy and funny halloween themed skits and vignettes. Beware of the scarers in the woods though!

Our event is a Halloween-themed outdoor theater performance in the forest of Williston, Vermont. For 35 years over 400 volunteers in our community come together for three nights (October 27, 28, & 29) and one matinee show (October 29th) to provide an unforgettable evening of Halloween outdoor theater. During the show mysterious guides lead our guests through the dark and foreboding forest, where paths are lit by over 1,000 flickering Jack-O'-Lanterns. Throughout their passage, visitors encounter approximately eleven Halloween-themed performances, where strange and fascinating characters entertain our guests with traditional New England tales. The scenes range in their entertainment from scary to funny to artistic, while the costumes, makeup, and special effects enhance the macabre mood of Halloween. Every now and then, a surprise from the darkness gives folks the good-natured scare they are seeking. The entire Haunted Forest performance is orchestrated to evoke the spooky, playful, and eerie aspects of Halloween in a one-of-a-kind setting.
Latest Reviews
There are no reviews for this listing yet!