The Soap Factory's Haunted Basement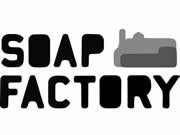 Haunted Basement returns to its roots with two twisted pathways leading to artist created environments built throughout the entire 13,000 square feet of The Soap Factory's basement. But the nightmare starts before you even get there, as you are forced to wait in line through a maze of visual horror above the basement. Once its your turn, you'll separated into small groups and fed into the depths a handful at a time where you will then be given a choice: follow the signs to take the "easier" path or be brave and take the path filled with more horror and more torment than ever before.

Once a path is chosen, there's no turning back. But beware; we may decide to switch the signs at any time.

And still, be bold with your choice. You never know when bravery will be rewarded.

There is no set time. Maybe you'll find your way out. Maybe you'll be stuck in the nightmare until we decide to let you out. Be prepared. Our Basement Creeps are ready. And they've been waiting for you.

Returning with us this year will be custom smells by Art and Olfaction Award nominated St. Croix Sensory, a partnership featured in The New Yorker in 2014. Your worst fears brought to life with all five senses.

A valid photo ID is required for everyone attending The Haunted Basement.
Haunted Basement Teaser 2016
Latest Reviews
There are no reviews for this listing yet!