Twisted Fields of Terror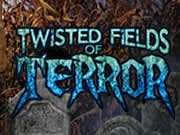 Three attractions:

Z-Pocalypse Paintball Hay Ride:
Take a ride through zombie infested fields on our large 16 passenger paintball trailers and prepare to defend yourself against hoards of infected zombies trying to over take your world. The only thing protecting you from certain infection is your own paintball gun and as many paintballs as you can shoot!

Cannibal Creek Haunted Trail:
As you begin your walk down the path of others misfortune, you begin to wonder if you should continue or turn around. Witness the macabre life style of the local Griner Brothers family. Pray that you can make it through with out becoming their next meal, as you come to realize that the Griner family are cannibals.

Twisty's Twisted Corn Maze - Check site for details.
Latest Reviews
There are no reviews for this listing yet!