Twisted Darkness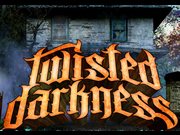 All new Twisted Darkness! All new set designs, and tons of new scares…..
You might want to bring someone with you!!!
We are bringing out the biggest and baddest this year during our 10 Years Of Fear anniversary. Our creepiest clowns, most terrifying zombies, and many more undead surprises lurk around every corner. Can you find them before they find you?

TEAM DEATHMATCH
Players go head-to-head in this classic combat scenario! Players have one health and unlimited respawns, and are split into two teams. Whichever team blasts the other the most within five minutes is the winner.

DOMINATION
This classic battle for superiority is ideal for teams and risky players. The Dominators (capture points) are placed around the battlefield and teams must fight to claim the area for their side. A player must get to the Dominator and shoot down the center to activate it for their side. While the Dominator is claimed by one side or another, it glows their color and secures points. The highest point total at the end of 5 minutes wins. All players have 2 health and unlimited respawns.


Latest Reviews
There are no reviews for this listing yet!