Wisconsin Fear Grounds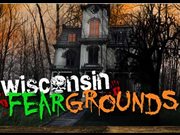 More than 55,000 square feet of Terror awaits you at the Wisconsin Fear Grounds!
Located in Waukesha Wisconsin

The 3 totally separate Haunted Houses make up the Wisconsin Fear Grounds! Others want you to think they are the newest, scariest or largest, (in their dreams). The Wisconsin Fear Grounds proves each night why we are the best and we strive to bring your Nightmares to life.

MORGAN MANOR
First enter Morgan Manor the corner stone of our trilogy of TERROR. Expect the unexpected as Morgana and her 8 sisters feed on your fear in this den of Horror.

UNSTABLE
What pain was once limited to the indoors has now spread. The evil has consumed the rest of the grounds, as Morgana and her minions have found refuge in the stables of this once elegant estate to unleash even more horror, "Unstable". The outdoors are no longer refuge from the terror of her home as you try to escape, Unstable is waiting to greet you.

CARNEVIL OF TORMENT
Morgana and her wicked sisters have once again bewitched another new crop of minions to do their "EVIL" bidding in CarnEvil of Torment – A Freak Show of Terror. For those unsuspecting souls, Be Warned, things are about to get "Freaky" as a new evil greets you in the latest nightmare. Think you can avoid getting caught up in this freak show of terror? Give it a try and see. This three-ring circus of evil will have your head spinning by the time you reach the end…assuming you find the exit.

MORGANA'S ESCAPE
New in 2015…Ready to play ESCAPE?

As soon as you enter this dark abyss, the door locks behind you. You stand in the dark, unable to retreat, too terrified to move forward. A light appears and before you stands a curious individual, who murmurs these words. The exit is blocked and you are trapped, your only hope lies within your collective wit.

In a short time, terrible horror will be unleashed upon you, and none can save you, except yourself. You must search for 3 keys which will open the locks of this tomb. Look around you for hints to the hidden locations.

As Morgana's Minion turns the hour glass over and the sands begin to pour out, an evil laughter fills the room, Your time starts Now!
Latest Reviews
There are no reviews for this listing yet!