Wolfmans House Of Screams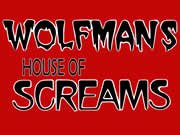 Wolfman's House of Screams is an original spookhouse that provides entertainment for anyone who walks through the door. Over 8,000 square feet and growing, 13+ years of experience and 30-40 spooks, Wolfman's House of Screams will definitely make you scream! Our goal is to give you the best scare of your life!

Wolfmans House of Screams was started in 2003 when a dream of a "Wolfman" came alive. Reggie Pippin was his name. He has been dressing up as the "Wolfman" since the age of 16. He loved Halloween and loved scaring people. Him and his daughter Meggie, have been working in spookhouses since 2000. In 2003 he decided to start his own. Sadly in 2014, Reggie "Wolfman" Pippin was hit with a silver bullet (cancer) and passed away. Since then his daughter Meggie and family continue to keep his legacy going.


Latest Reviews
There are no reviews for this listing yet!