Zimmerman's Trail of Terrors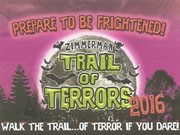 Walk the terrifying trail in a remote wooded setting! Enter the gates with no way out. Walk past the swamp and meet demented Uncle Otis Odene. Start your hike through the Zombies in the cemetery and 14 other haunts. Encounter killer clowns, chain saw maniacs and back woodsman.
Feel the touch of restless spirits and ghouls all around you. Pass through walk ways and a mine shaft. Creepiness in every corner and passage.
Too scared to walk back alone? Ride the hay wagon back to the beginning where a bonfire and concessions welcome you!!
Not for the faint of heart!
Latest Reviews
There are no reviews for this listing yet!