Waking Dead Zombie Haunt & Zombie Shoot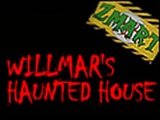 After a recent Zombie Apocalypse, Zombie Corp. a new company based out of Willmar, Minnesota, "Z-Mart" began research working with their Mad Scientific team of geniuses lead by the corrupt Dr. Harley A. Bloodborne. As a scientist, he was previously employed as one of the nation's leading pioneers in Necro Research and reanimation. Dr. Bloodborne's companies were involved in making products in all of the major animal species. These vaccines also worked in the Zombie species, too. They became domesticated Zombies. The new type of Zombies are now friendly, humorous and would be helpful to people when cared for properly. Zombie Corp began to adopt Zombies to Americans to do household chores or manual labor jobs. The store that you would purchase a Domesticated Zombie at was called "Z-Mart." Thousands of Z-Mart stores began popping up across America. Every household was buying their very own Zombie slaves.

The U.S. Government was investigating the Zombie Corporation, as they did not want another rising up of a Zombie apocalypse. The Z.T.F. - Zombie Task Force is the government agency that wants to destroy all remaining Zombies protecting citizens from getting infected. They are responsible for policing the Zombie Corp. and the Z-Mart distribution centers. Although the GOOD Zombies are treated with the vaccine, and a Z- Collar that they wear. It's only a matter of time before things get out of control.
Are the Domesticated Zombies really safe? What happens when Zombie Corp. runs out of Zombies? Will they make more? How does Zombie Corp. make more Zombies to sell?

The governmental agency Zombie Task Force – ZTF know that Zombie Corp. plans to infect naïve innocent Americans with the Zombie Virus! They use unsuspecting tour groups (YOU) who come and tour their headquarters at the Z-Mart in Willmar, Minnesota. These tour groups enter for an innocent guided tour and never come out. The Z.T.F. believes the tour groups are eventually sold as Domesticated Good Zombies across the world.
Will the Government stop ZOMBIE Corp.? The Zombie Task Force – ZTF needs your help to stop the Z-Mart! Join the Z.T.F. and shoot the remaining Zombies with the special Nerf dart Vaccine!

Welcome to "Z-MART" The ZOMBIE Experince – Haunted House and ZOMBIE SHOOT –
Your complete- ZOMBIE EXPERIENCE – this Halloween Season!
Latest Reviews
Very creepy! Lots of freaky people!

Posted 10/31/16