The House of Zombies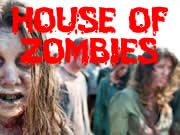 The House of Zombies is a Halloween event with a maze and haunted Zombie House. The House of Zombies is the LARGEST haunted attraction EVER in Edgewater Maryland – and located near Baltimore and Washington DC. Terror &Thrill-seekers can expect mind twisting scares and horrifying special effects that will ensure this to be a truly haunting experience for everyone that hopes pay it a visit. But wait, Bring a friend, as NO ONE WANTS TO DIE ALONE!
Latest Reviews
There are no reviews for this listing yet!