13th Floor Haunted House Jacksonville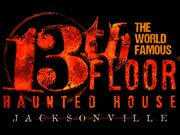 13th Floor Haunted House Jacksonville
9230 Arlington Expressway
Jacksonville, FL
Click To Call
904-479-9629
Review Us

Get ready for the most fun you've ever had getting scared this Halloween season when the world-famous 13th Floor Haunted House comes to Jacksonville! In most buildings, the 13th floor doesn't exist – but here, in the heart of Jacksonville, it's terrifyingly real. Located on the Arlington Expressway, the legendary 13th Floor has been praised by and featured on America Haunts, Travel Channel, MTV, Haunt World Magazine, and USA Today calls it "One of the best haunted attractions in the US."

-Attractions-

Mini Escape Games:

Mini Escape Games are a fully interactive and immersive experience unlike anything you have ever done before! Race the clock: Your group enters a room and has only 5 minutes to use clues and riddles hidden throughout the room that provide the tools necessary to meet the objective. As the clock ticks down and the pressure mounts…can you stay calm, can you escape?

Bar13:

21+ patrons can enjoy spooky libations before or after experiencing the haunted house!

Axe Throwing:

Become intimate with a 1.5lb piece of whirling wood and metal as you learn, practice and then finally square off toe at Class Axe Throwing!


La Llorona:

Legend has it there was once a beautiful young woman named Maria. She was cast aside when her husband decided he no longer loved her. In a fit of rage, Maria drowned the 2 people her husband loved more than anyone, her children. Once she realized what she had done, she was no longer able to live with herself, and let the current of the river sweep her away. In her afterlife, she was forbidden to enter through the pearly gates, without the 2 children she drowned, by her side. Stuck between the land of the living and the dead, La Llorona spends eternity weeping and looking for her lost children. She scrapes the bottom of the rivers and lakes, searching for her children and will take any child she sees. Hold your children tight and be faithful of heart or the Woman in White might take you to join her search.

Necronomicon:

A young couple decided to rent a cabin for the weekend. As they stumble through the house, they find an old locked chest. Inside, they find a few peculiar objects, all of which seem to be otherworldly. Among the objects, a book bound from animal skin contained Latin chants which the couple began to recite. Unbeknownst to them, this chant was unleashing something sinister. This chant opened the gate to the Thirteenth Realm...

Clown:

Every thirteen years, Clown returns to our world to gain strength by feasting on the fears of children. It's been thirteen long years that Clown has been trapped inside the Thirteenth Realm, all while plotting his next gruesome attack. Will he reap his work and swallow your fear-drenched soul or can you evade his evil grip?



September 2019
Su
M
Tu
W
Th
F
Sa
1
2
3
4
5
6
7
8
9
10
11
12
13
14
15
16
17
18
19
20
21
22
23
24
25
26
27
28
29
30
October 2019
Su
M
Tu
W
Th
F
Sa
1
2
3
4
5
6
7
8
9
10
11
12
13
14
15
16
17
18
19
20
21
22
23
24
25
26
27
28
29
30
31
November 2019
Su
M
Tu
W
Th
F
Sa
1
2
3
4
5
6
7
8
9
10
11
12
13
14
15
16
17
18
19
20
21
22
23
24
25
26
27
28
29
30
Latest Reviews
There are no reviews for this listing yet!