Beck Mountain Haunted Corn Maze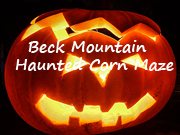 Beck Mountain Haunted Corn Maze
110 Corn Maze Lane
Elizabethton, TN
Click To Call
423-747-1190
Review Us



Haunting starts at dark and continues til the last victim is served. No tickets to the Haunted Attractions will be sold after midnight!

A ticket will first get you onto the Hayride. Make sure to keep up with your ticket because the Hayride ends at Murder Manor. This haunted house has all your worst fears; so make sure not to wake the dead! If you make it out of Murder Manor alive you might just find yourself in the Haunted Corn Maze. The Maze has 3 acres of goblins and ghosts. You better watch out because you might just meet your worst nightmare!! Maybe you can make it out alive?...Maybe not??

Due to the NEW Haunted House, Murder Manor, and the way the attractions are set up now, the Hayride takes you to the attractions and you make your way back towards the barn and your cars on foot.
Latest Reviews
Great haunted house!!! Love this place!!

Posted Oct 2016