Buzzard Cove Screampark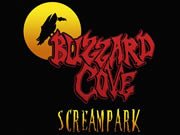 Buzzard Cove Screampark
1053 Bellus Rd.
Hinckley, OH
Click To Call
440-794-1088
Review Us


The Buzzard Cove Screampark features the return of Hinckley's Haunted Barn. The Haunted Barn terrorized patrons for over a decade in the 90's and now, after laying dormant for almost 20 years it has returned more sinister and evil than ever!

For the less brave among our guests we also have the Netherealm Invasion laser battle and Scarecrow Alley Halloween themed Putt-Putt.

We recommend that you purchase your tickets online! This allows you to walk right into the line for the attraction instead of having to wait to purchase your tickets on-site and then have to wait to go through the attraction.

We sell everything from food to T-shirts. Bathrooms are available as well.
September 2017
Su
M
Tu
W
Th
F
Sa
1
2
3
4
5
6
7
8
9
10
11
12
13
14
15
16
17
18
19
20
21
22
23
24
25
26
27
28
29
30
October 2017
Su
M
Tu
W
Th
F
Sa
1
2
3
4
5
6
7
8
9
10
11
12
13
14
15
16
17
18
19
20
21
22
23
24
25
26
27
28
29
30
31
November 2017
Su
M
Tu
W
Th
F
Sa
1
2
3
4
5
6
7
8
9
10
11
12
13
14
15
16
17
18
19
20
21
22
23
24
25
26
27
28
29
30
Buzzard Cove Screampark Teaser 2018
Latest Reviews
Being in an old barn with tons of levels.These actors went all out scared the crap out of our groups and others. Very sinister and dark and creepy. Cult like and you never knew what was coming. Not a long wait. Covered waiting area. Definitely worth it

Posted Sep 2018