City of the Dead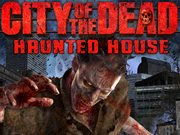 City of the Dead
7007 E 88th Ave
Henderson, CO
Click To Call
(720) 254-1627
Review Us


At City of the Dead, haunt-goers can experience three terrifying haunted attractions. From the very moment you step out of your car your senses will be enveloped with the sights, sounds and smells of the very things that your wildest nightmares are made of.
Multiple Attractions, 1 Location, 1 Low Price!
Latest Reviews
There are no reviews for this listing yet!