Dave's Haunted House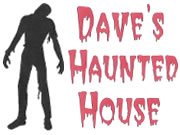 Dave's Haunted House
500 N Mitchell St
Cadillac, MI
Click To Call
231-444-6191
Review Us


Entrance is through the front of the shop, where you check in. You will be assigned to a "Specialist". The specialist will lead, and protect you through the affected area to safety.

When the shop owner rented the building, he discovered quickly why tenants don't stay long. In the past 20 years, over a dozen different businesses have started here, and just as quickly disappeared! However, as a retired Navy cop, trained in Anti-terrorism and force protection, he refuses to go quietly into the night!

If you believe you have the intestinal fortitude required to look evil in the face. Dave has taken every precaution to ensure your safety. However, when dealing with pure unadulterated evil, there are no guarantees...ENTER AT YOUR OWN RISK!
Latest Reviews
There are no reviews for this listing yet!