The Scream Haunted Adventure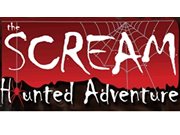 The Scream Haunted Adventure
Hickory Point Mall
Forsyth, IL
Click To Call
217-423-4222
Review Us

Two Haunted Adventures: One Eerie Location

The Scream Haunted House

Watch your back as you travel through over 15,000 square feet of fright including 30 horrifying scenes, double vortex tunnels, a grave crawl, and squeeze wall, built inside an empty warehouse inhabited by zombies, beasts, monsters, and roaming sinister characters.

The Scream Haunted Warehouse Tour

Back by popular demand, the Haunted Warehouse Tour guides patrons through abandoned portions of the warehouse that are rumored to be haunted. Similar to the TV show, "Ghost Adventures," this flashlight tour is a paranormal experience where a small group of explorers visits the creepy remains of a once buzzing cafeteria, kitchen, and locker room of the old Mueller warehouse.

The Scream Haunted Adventure debuted in October 2008 and is a partnership between Decatur Celebration and The Creatures of the Night.

About "Creatures of the Night"

Members of "Creatures of the Night" study Halloween events all across the Midwest and have honed their talents over a decade of involvement in Haunted Houses throughout the region. The team primarily consists of Gary Moore's close knit group of friends including Co-Production Director Gloria Russell.

About Decatur Celebration

Each August, hundreds of thousands of people flock to Central Illinois to experience Decatur Celebration, the Midwest's most exciting family street festival. The massive 3-day event blankets the downtown business district with eight show stages featuring national and emerging music artists, three blocks of authentic Arts and Crafters, spectacular carnival rides for all ages, the Razzle Dazzle Goodtimes Parade and over 60 unique food items hand-picked for quality and inspected for safety.
The Scream Haunted Adventure
Latest Reviews
There are no reviews for this listing yet!