Destination Haunt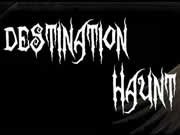 Destination Haunt
249 Lord Rd
Lebanon, ME
Click To Call
(207) 351-5171
Review Us


Destination Haunt is a self guided walk thru haunted attraction. Your journey will take you thru the following areas:

Scorched House
The Meathouse
Hobo Village
The Execution Center
Buried Alive Cemetery
The Lebanon Lab
The Boathouse

And Our Newest Attraction: The Outlaws

You will be outdoors. Please wear appropriate footware and apparel.

October 2019
Su
M
Tu
W
Th
F
Sa
1
2
3
4
5
6
7
8
9
10
11
12
13
14
15
16
17
18
19
20
21
22
23
24
25
26
27
28
29
30
31
November 2019
Su
M
Tu
W
Th
F
Sa
1
2
3
4
5
6
7
8
9
10
11
12
13
14
15
16
17
18
19
20
21
22
23
24
25
26
27
28
29
30
Latest Reviews
This place is amazing. Its scary and it's fun!

Posted Oct 2018